The Best Vitamins for Chihuahua are the building blocks of your pet's health. They may help to guarantee that your pet is at its healthiest and most comfortable. A regular dietary supplement may aid in the prevention of illness and the overall health of your pet. It is an excellent addition to your pet's diet since it enhances immunity and digestion while also providing your tiny pet with healthy skin and coat.
Based on these considerations, we have created a list of the best vitamins for your Chi. Including adult, puppy, and senior supplements. These supplements include a synergistic mix of beneficial vitamins, minerals, and antioxidants that perform various tasks depending on your pet's requirements.
If you're in a hurry, you may see our Top 6 evaluated products for the best vitamins for Chihuahuas by clicking on the brief description below:
| BEST VITAMINS | BRAND | EXPERT RATING | CHECK PRICE |
| --- | --- | --- | --- |
| | Healthy Breeds | | Check Price |
| | Zesty Paws | | Check Price |
| | VitaminPup | | Check Price |
| | Doggie Dailies | | Check Price |
| | Zesty Paws | | Check Price |
| | Ocu-GLO | | Check Price |
---
Chihuahuas Need Vitamins, Too!
To maintain strong bones, eyesight, and metabolism, your Chihuahua needs a particular combination of vitamins and minerals. Even though vitamins are essential for your Chihuahua's health, certain supplements and excessive vitamin intake may be harmful to him. Learn how to identify vitamin insufficiencies of Chihuahua and collaborate with veterinarian in order to treat them to maintain your Chihuahua active and healthy for as long as possible. Even though conventional dog meals promise to offer complete nutrition. They often fail to deliver all the vitamins required for Chihuahuas.
📍 Multi-Vitamins
When dogs become older, they often lose their capacity to absorb all of the nutrients available in their diet. Many businesses provide supplements for senior dogs. Your veterinarian may suggest that you start giving them to your dog when he is around seven years old. The proper mix of foods may help your Chihuahua have more energy.
📍 Vitamin A
Leafy green vegetables, fish oils, carrots, and dairy products are all excellent sources of vitamin A. A healthy coat and hair are encourage by this vitamin for your Chihuahua. A deficit may result in visual issues or development that is slow. When consume in excess, it may cause bone abnormalities and bleeding problems in addition to diarrhea, nausea, vomiting, and hair loss. According to Vetinfo.com, vitamin A is a fat-soluble vitamin that should only give to your Chihuahua if they exhibit signs of insufficiency. That is a choice that your veterinarian should make.
📍 Vitamin B
Whole grain cereals, liver, and Brewer's Yeast are excellent sources of B vitamins for your Chihuahua. Fatigue, lethargy, skin issues, hair loss, and anxiety are all symptoms of deficiency. Even though a severe overdose of vitamin B may cause nerve damage. Most excess vitamin B is eliminate in the urine.
📍 Vitamin C
Vitamin C may help to strengthen your Chihuahua's immune system and increase their energy levels. A shortage in this vitamin, which is found in fruits, broccoli, cabbage, and leafy green vegetables, may result in swollen joints, bad teeth, and slow healing. Too much vitamin C may sometimes induce diarrhea in dogs, but the excess is excrete in the urine most of the time. According to the University of Florida, dogs can manufacture vitamin C inside their bodies. When they are under stress, they may need even more.
📍 Vitamin D
Vitamin D helps to maintain the strength of teeth and bones. A deficit in this vitamin, found in dairy products and fish liver oil, results in underdeveloped bones and eye issues. Vitamin D is also a fat-soluble vitamin, and an excess of it is harmful. When consumed in excess, it may cause nausea, vomiting, and calcification of muscles, including the heart.
📍 Vitamin E
Vitamin E has antioxidant properties. It promotes healthy aging in your Chihuahua, as well as boosting his immune system and making his coat shine. A deficit in this vitamin, which is found in vegetable oils, nuts, seeds, green vegetables, and meats. It may result in bleeding problems and reproductive failure. In most cases, taking too much vitamin E is not harmful. According to Vetinfo.com, vitamin E may help to slow down the aging process and prevent cataracts from developing.
📍 Vitamin K
Vitamin K helps to prevent blood clots from forming. A deficit in this vitamin, which may find in fish liver oil, yogurt, and egg yolk. It can result in bleeding problems and miscarriages. Generally speaking, too much is not harmful.
---
Best Vitamins for Chihuahua – Top 6 Picks!
🦴 OUR TOP PICK
Best Vitamins for Chihuahua - Our Top Pick!
Product Name: Healthy Breeds Multivitamin Daily Dietary Supplement
Product Description: Healthy Breeds Multivitamin Supplement contains iron, copper, manganese, vitamins A, B-complex, C, D, E, K, and other minerals and vitamins. If your Chi weighs less than 10 lb, you need to give them half of this soft chew. A veterinarian designs each chew to meet the particular vitamin needs of your pet. For example, Biotin is essential for maintaining healthy hair and coat in Chihuahuas, susceptible skins.
Brand: Healthy Breeds
Offer price: $$$
Availability: InStock
Efficacy

Formula

Affordability
Summary
Furthermore, it is beneficial to your pet's bladder health as well as their general wellness.  The most significant feature of this product is that Healthy Breeds Multivitamin Supplement for Chihuahuas is manufactured in an FDA-approved and USDA-certified facility.  As a result, you may be sure of the product's high quality and purity of components.  This company also offers vitamins for your Chihuahua, whether it is an older or younger dog:   
Pros
Chihuahua specialized supplements are available only for Chihuahuas. 

It is simple to administrate 

The texture is soft and juicy, and the bacon taste is something that most Chis like.
🦴 RUNNERS UP
Zesty Paws 5-in-1 Multivitamins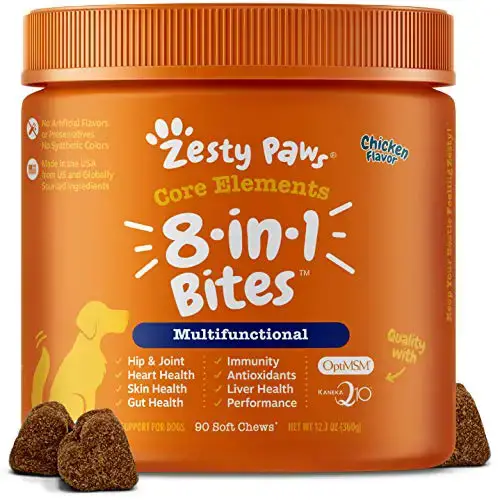 This multivitamin and mineral supplement supports the health of your tiny pet's heart, stomach and digestion, hips and joint health, skin, and coat, as well as their immune system.
Each daily chew contains vitamins A, C, and E, essential for maintaining healthy skin and coat, heart health, and immunity.
Chihuahuas have sensitive skin and coats. Zesty Paws daily supplement may help nourish and soothe due to the inclusion of cod liver oil, Vitamin E, and CoQ10 co-enzyme in its formula.
As a bonus, due to the 5-strain probiotic mix in this product. You will no longer have to worry about your pet's digestion or gut health.
This inoculates your pet's gut with 500 million CFUs (colony forming units) of beneficial bacteria. Which helps to keep him healthy.
In addition to all of the supplements above, glucosamine, MSM, and chondroitin will be beneficial to your pet's hips and joints.
These nutrients are essential for the health of your Chi because they lubricate the joints, promote mobility, and help avoid disorders like luxating patella, hip dysplasia, and other joint problems.
---
VitaminPup Dog Daily Multivitamin-Mineral Supplement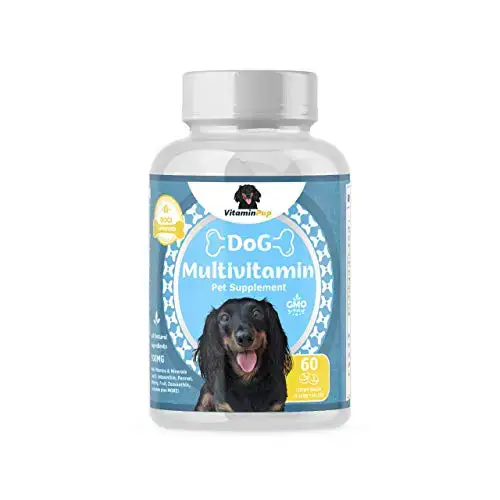 VitaminPup daily dog supplement is a cost-effective method to ensure that your pet receives all of the vitamins, minerals, and antioxidants that it needs daily.
Your Chihuahua's bones and skin health will benefit from this food. Which is rich in vitamins A, B-complex, C, D, and E, as well as antioxidants, the CoQ10 enzyme, berry and herbal extracts, Brewer's yeast, and beneficial bacteria.
All of these components work together to enhance your pet's gastrointestinal health, immunological function, skin, and coat health. As well as preventing premature aging and aiding in the development of stronger bones and bones in general.
This dog chews also include liver powder, which provides your Chi with all of the protein it needs. In addition to other ingredients.
Even a fussy Chihuahua will beg for these daily soft chews because of their delicious bacon-and-maple taste. Which even the pickiest of dogs will be unable to resist!
---
Doggie Dailies Glucosamine Supplement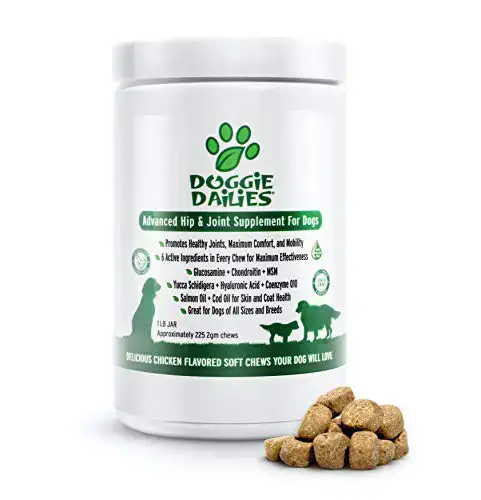 Chihuahuas love chicken-flavored chews, and they'll come rushing to you to grab some for them!
Hundreds of thousands of pet owners have reported that their dogs' joint problems, such as hip or elbow dysplasia, and luxating patella, have been improved, as has their pets' overall mobility.
First and foremost, Doggie Dailies include potent nutrients that promote joint health in your dog, such as MSM, glucosamine, chondroitin, and other similar compounds.
Not only do they help to enhance mobility and range of motion, but they also help to prevent further joint degeneration from occurring.
Second, they help to restore your pet's energy levels as well as to relieve pain and suffering in your home.
Third, they include omega-3 fatty acids in fish oil, which is beneficial to the skin and coat's health.
It also benefits slowing down the aging process due to potent antioxidants such as Coenzyme Q10, vitamins C and E.
---
Zesty Paws Senior Dog Supplement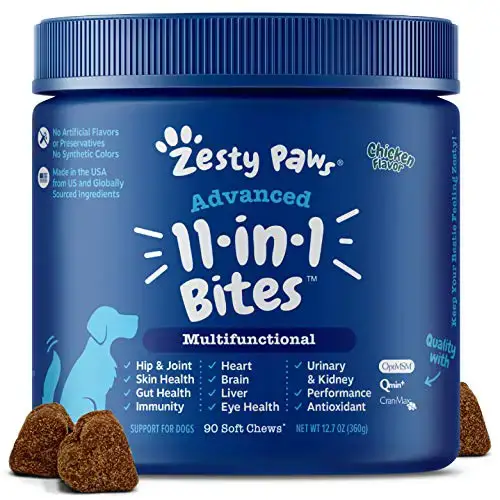 One chew of Zesty Paws grain-free vitamin supplement may provide your senior Chihuahua with eight different health and wellness advantages.
To recapitulate, these eight advantages include hip and joint support, heart, brain, and eye health, skin and coat health, liver health, gut health, enhanced immunological function, and urinary tract health, among others.
Each soft chew also includes a psyllium husk, which helps to keep your pet's digestive system running smoothly.
Skin and coat nourishment is provided by cod liver oil, while a mix of gut-improving probiotics works hard to keep your pet's digestion and immune system on track.
Additionally, in addition to the multitude of multivitamins, your pet will benefit from substances that are known to help with joint support and mobility, such as turmeric, MSM, glucosamine, and chondroitin.
Co-enzyme Q10 and other antioxidants can assist in keeping your pet youthful and agile, while cranberry extracts will aid in avoiding urinary tract problems in older pets.
Vitamins A, C, and E have shown to improve cardiovascular and liver function.
---
Our-GLO Small Dog Eye Health and Vision Vitamin
Our-GLO is a veterinary ophthalmology product explicitly develop for tiny dog breeds to provide them with the best possible eyesight.
Its antioxidants, vitamins, and lutein help to maintain the health of your Chihuahua's eyesight.
Because the gel caplets are the perfect size for tiny dogs such as Chis, pugs, and other similar breeds, you won't have to crush or split them in half to get the proper dose.
It's also simple to cut each caplet open and sprinkle the contents over your pet's food.
Our-GLO includes grape-seed extracts that help to protect your pet's eyes from oxidative stress, while lutein helps to keep damaging light wavelengths out of their vision.
Vitamins and zinc help improve the health of responsive photoreceptors, while omega essential fatty acids help maintain the health of the retina and lens.
These are the finest vitamins for eye health that you can provide to your dog for the most part.
---
How to Choose the Most Appropriate Vitamins for Your Chihuahua?
Vitamins are essential for the health and well-being of your Chihuahua, but the best method to select the appropriate daily vitamin is to check with your veterinarian first.
Varied Chihuahuas have different nutritional requirements, which may vary depending on your pet's age, general health profile, food, and other factors.
When choosing the best vitamins for your Chihuahua, there are several things to consider. These include:
✔️ Age of your Chihuahua
The vitamins that your puppy needs are different from those that are intend for older dogs. Puppies need a high intake of vitamins and calcium, phosphorus, DHA, and omega-3 fatty acids (ALA).
Adult dogs need a synergistic mix of vitamins to promote joint health, eye health, coat health, and immunity, as well as probiotics to aid digestion and immune function.
They also need nutrients that promote heart health, liver function, and other bodily functions.
✔️ The nutrition of your Chihuahua
Before you choose a brand of multivitamins for your Chihuahua's daily nutritional assistance, think about what your dog eats.
Several nutrients may be already present in your pet's diet at any one moment.
If you give your dog homemade food, you should consider giving him a daily multivitamin to ensure that he receives all of the nutrients he needs to be healthy.
It would help if you kept in mind that you may unintentionally overfeed your pet-specific vitamins, which are never healthy.
As a result, you should contact a veterinarian before beginning a vitamin or supplement regimen for your Chi.
✔️ The general health profile of your pet
Most essential, you may want to choose a supplement tailored to your pet's specific health requirements.
When it comes to elderly dogs, you may be worried about the health of their joints.
For these, you'll need supplements including MSM, chondroitin, and glucosamine, which have been shown to improve joint mobility while also alleviating everyday aches and pains.
Similarly, if your dog suffers from visual problems such as night blindness or cataracts, you may consider giving him a supplement containing lutein, zeaxanthin, or other antioxidants.
This shields the eyes from damaging light wavelengths and offers anti-oxidative protection, which helps prevent additional damage to the eyes.
✔️ Texture and taste
Chihuahuas are notoriously fussy canines, as we all know.
Choosing a supplement or daily chew that your pet will look forward to eating is thus essential.
In the alternative, choose a simple pill to break apart and put into your pet's food in case your fussy eater refuses to consume it as it is.
Nowadays, you can also get multivitamin syrups for Chihuahuas, which many pet owners prefer since they are simpler to give.
✔️ Checked for quality
Ideally, you should use Chi-friendly vitamins that the NASC has authorized. This Council oversees the regulation of animal supplements, ensuring that you get high-quality products.
Fortunately, most of the supplements listed above fulfill this criterion.
If not, go for supplements that have been developed by or suggested by a veterinarian to ensure that your pet is receiving the finest possible nutrition.
The supplements would be manufactured in the United States and individually checked for quality in an ideal world.
---
What Nutritional Supplements Should I Feed My Chihuahua?
The following are the primary vitamins required by your Chihuahua:
📌 Vitamin A
A lack of this vitamin, which is very important for eye health, may cause vision-related difficulties in children, developmental issues in puppies, and even skin and coat problems in humans.
📌 B-vitamins
This group of vitamins is very beneficial to your pet's skin, coat, and overall health and energy levels. If you don't get enough of this vitamin, it may cause a wrong coat, hair loss, tiredness, and lethargy.
📌 Vitamin C
To maintain a robust immune system and fight off infections, Chis need this potent antioxidant. Vitamin C is also required for the prevention and treatment of oxidative damage.
📌 Vitamin E
All dogs require this essential vitamin to preserve their heart, skin, hair, joints, and eyesight.
You can have poor energy levels, visual problems, and even bleeding difficulties if you do not get enough vitamins.
📌 Omega-3 fatty acids
These fatty acids are essential for maintaining a healthy heart, skin, coat, joints, and eyesight.
These supplements also aid puppies' intellect and brain development.
📌 Chondroitin, glucosamine, and MSM are all-natural supplements.
This combination of minerals helps to maintain joint health in older dogs.
Many veterinarians prescribe them to prevent joint problems like luxating patella, hip-and-elbow dysplasia, and other conditions that Chihuahuas are prone to.
These nutrients are also known to enhance mobility and range of motion in elderly dogs suffering from these problems and decrease pain and discomfort in these dogs.
📌 Others
Here are some more nutrients that your cat requires:
Coenzyme Q-10 — This potent antioxidant helps delay the aging process while supporting heart health, vision, and general well-being.
Concentrated cranberry extracts – Cranberries help to keep your pet's bladder healthy. If your Chi is suffering from recurrent urination problems, this component may be able to assist.
Turmeric includes curcumin, which has antioxidant, anti-inflammatory, and antibacterial properties. It is an essential herb. It may be beneficial to your pet in a variety of ways.
---
Frequently Asked Questions
Q: How can I ensure the health of my Chihuahua?
In addition to providing your Chihuahua with the best dog food and one of the high-quality daily multivitamin/mineral supplements listed above, you can help to keep your pet healthy and happy by taking it for regular walks, scheduling routine vet visits, and providing your pet with mentally stimulating and enjoyable activities.
Indeed, a happy, healthy, and well-behaved dog has been given enough exercise!
Q: Do Chihuahuas need a particular kind of nutrition?
Yes, Chihuahuas are prone to dietary allergies and intolerances in certain circumstances.
Because of this, kids may need limited-ingredient diets with easily digestible proteins, food devoid of chemicals, colors, and preservatives, and food that is ideally free of grains.
However, not all Chis are sensitive to certain foods, so consult your veterinarian about the healthiest diet for your little friend.
Q: Can vitamins be harmful to my pet's health?
When it comes to your Chi, everything in excess may be harmful or detrimental.
You may enjoy many advantages, though, if you provide the proper dosage of a decent daily vitamin after checking with your veterinarian.
A multivitamin, in particular, may be very beneficial if your pet's diet does not include those essential elements. The benefits can be seen in healthier skin and coat, increased vitality and energy, decreased joint problems, and better eyesight.
Q: What kind of vitamin C is required by a Chihuahua? Which foods are high in Vitamin C?
The ascorbate type of vitamin C is the most readily absorbed and thus the most beneficial for your Chi.
If you offer foods that are high in this antioxidant in moderation, you may include kelp in your diet as well as broccoli, cauliflower, carrots, and sweet potatoes.
---
Final Words
The finest vitamins for Chihuahuas are high in different vitamins, omega-3 fatty acids, and substances beneficial to the eyes or joints.
They may also offer other advantages such as a healthier heart, better immune function, softer skin and coat, and improved eyesight, among other things.
In addition to being carefully tested to satisfy NASC standards, Healthy Breeds Multivitamin Daily Dietary Supplement is simple to give and comes in flavors that your Chi will enjoy.
Looking for the Best Wet Food for Senior Chihuahua? Read our Buying Guide!
Here at ILoveChihuahua, we share our personal experiences as owners of this feisty breed. We talk about recommended methods, dog supplies picks, and advice on common Chihuahua problems. Our goal is to promote responsible dog ownership, so there would be fewer Chihuahuas in shelters.